Information
American Steel Carports Your local dealer Jim & Sandy Evans
American Steel Carports can be ordered from Jim & Sandy Evans in Broadway, Ohio. American Steel Carports can be ordered in a variety of szes
A certified Double Carport - 18' x 21' x 5' starts at $795.00
A certified A-Frame Double Carport - 18' x 20' x 6' starts at $1095.00
FREE installation on your level land!
Our Carports are certified to meet your State & Local Codes
We will match any competitor's price on Garages & Warehouses
A demo of the carport can be seen in Broadway at 23470 West St. There also, are 3 others in the area that can be viewed.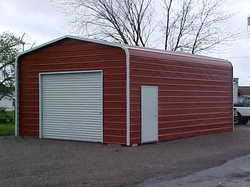 For more info or brocures, call Jim or Sandy or e-mail us
Included on this site, are a few pictures of buildings that we have sold. Also pictures of different ones that can be bought
(937)246-3555 or (937)243-5068